2023 Exhibit: Rail Ties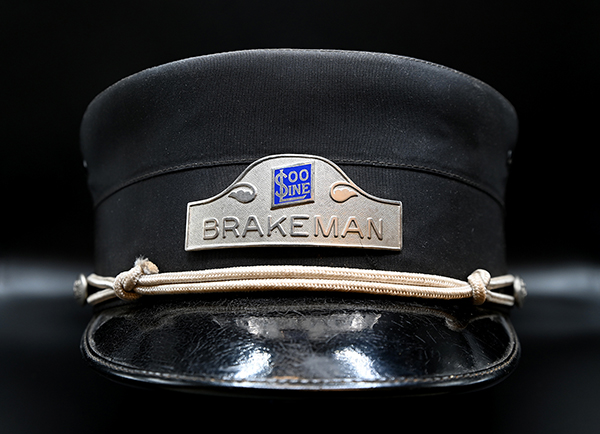 The National Railroad Museum's 2023 exhibit, Rail Ties: Railroad Stories That Link Our Community, brings together loaned objects and objects from the Museum's collection with stories of the people that owned and used them. The exhibit will be showcased inside the Museum's Fuller Hall Gallery. It opens Feb. 4 and continues through Dec. 31. The exhibit is included with daily admission.
By celebrating the stories of people who owned and used these objects, we can learn about the development of our country and its culture to gain a better understanding and appreciation for what has happened.
Stories can also help us appreciate the hard work and harsh conditions that railroaders endured. One such example is Art Danz, who worked for the Milwaukee Road and remembered the cold winters in Davis Junction, Illinois. Working in January can be brisk enough, but working at 2:00 a.m. in minus-10 degree weather with 15 to 25 mph winds is even colder. "You're hanging on the side of cold steel that has had more than ample time to assume the same temperature as the surrounding air… your fingers are frozen, in spite of the leather mittens with insulated wool liners, almost numb but still agile enough to secure you to the grab iron," he said. Despite the conditions, the work still needs to be complete. Art describes his skin burning from the cold, eyes tearing up, nose running and moustache being frozen into an arc of ice. Because of this, he dubbed Davis Junction the "coldest place on earth."
Visitors to the Rail Ties exhibit will be able to connect with stories and see artifacts that may spark memories of their own time working on the railroad or of a family member working for the railroad. The National Railroad Museum will continue to gather stories and artifacts to add to this exhibit as the year goes on. If you have a story to tell, please contact Daniel Liedtke, curator, so that we can preserve it for future generations. Daniel can be reached at dliedtke@nationalrrmuseum.org or (920) 437-7623, ext. 114.
Contact Us
Daniel Liedtke, Curator: (920) 437-7623 or nrrmcollections@nationalrrmuseum.org