Bauer Drumhead Gallery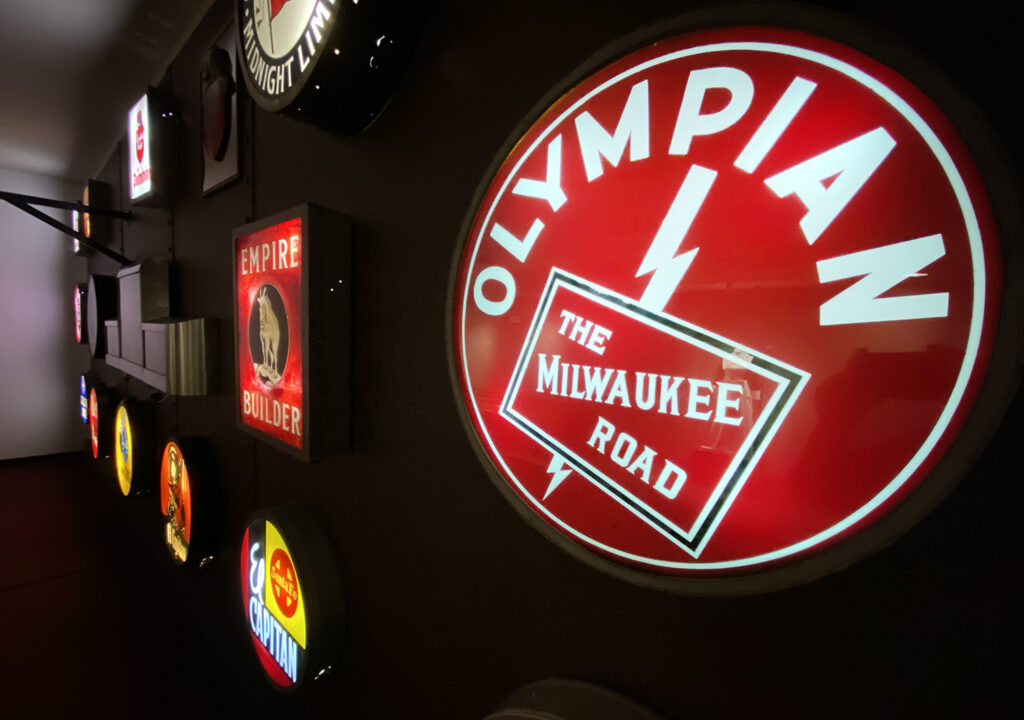 The Bauer Drumhead Gallery is the largest gathering of such artifacts known to exist. Frederick Bauer presented the collection of more than three dozen drumheads to the National Railroad Museum in 1999 to be preserved and displayed for future generations.
Among railroad memorabilia, drumheads are very rare. As trains were removed from service, drumheads often were scrapped along with unwanted passenger cars.
The first drumhead was reportedly displayed on the Northern Pacific's North Coast Limited in the early 1900s. The train ran between Chicago (Illinois), Seattle (Washington) and Portland (Oregon).
Prior to May 1971, when Amtrak began to operate America's passenger trains, individual railroads offered their own service. There was considerable competition between railroads, with travelers choosing from several trains to travel from between major cities.
The top trains, which often had names, were heavily promoted. One device used to advertise and identify these trains was the drumhead – a round, illuminated sign bearing the train's logo attached to the rear of the last car. The first drumheads were large and round, much like a bass drum, hence their name.
Drumheads generated powerful advertising. Celebrities often posed and had pictures taken near the signs. Those pictures promoted that particular train as a celebrity's favorite train, which was essentially an endorsement of its service. The Bauer Drumhead Gallery features narrated, touchscreen displays that provide additional information about each drumhead and route.
Among the Bauer drumheads: The Abraham Lincoln, Wabash Cannon Ball, The Erie Limited, The Twilight Limited, Expo Limited, Lackawanna Limited, The Phoebe Snow (one circular, one rectangular), Advance Merchants Limited, The Lake Cities, The Cardinal, Travel Broadway Limited, Alton Limited, Illinois Central Night Diamond, The Blue Bird, Merchants Limited, The Midnight, Silver Meteor, Dixie Limited, Florida Special, The Canadian, The Canadian, The Mountaineer, The Dominion, Midnight Limited, The Alouette, Olympian, Empire Builder, City of Portland Domeliner, North Coast Limited, Soo-Spokane-Portland Train De Luxe, Golden Gate, The Chief, Super Chief, El Capitan (two different circular models) and Super Chief El Capitan.
Photo Gallery | Bauer Drumhead Gallery
Contact Us
Daniel Liedtke, Curator: (920) 437-7623 or nrrmcollections@nationalrrmuseum.org