Please check back for the Dinner Train date for 2023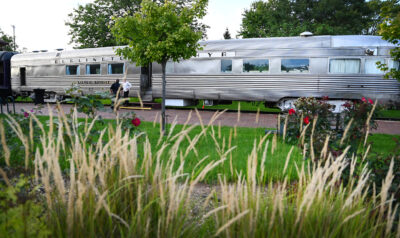 Join us for an unforgettable evening of fine dining aboard vintage dinner trains at the National Railroad Museum. Bring your friends and family on the 1930s Chicago, Burlington & Quincy #300 Silver Spirit train car or the 1920s Atlantic Coast Line Dothan Dining Car and experience our Dinner Train event.
Your journey begins on the train platform where you will hear Justin Lambrecht, our Director of Education, share information about dinner trains of the past. Then, you will board your train and set out around the track where you and your guest(s) will dine on the high bridge looking out across the Fox River and Dutchman Creek. There, you will enjoy a delectable dinner.
Funds raised support the National Railroad Museum, a non-profit, educational institution with roots dating back to 1956. 
Contact Us
Alexa Priddy, Director of Development: (920) 437-7623, ext. 123 or apriddy@nationalrrmuseum.org
Photo Gallery | Dinner Train