Joseph Lister Hospital Car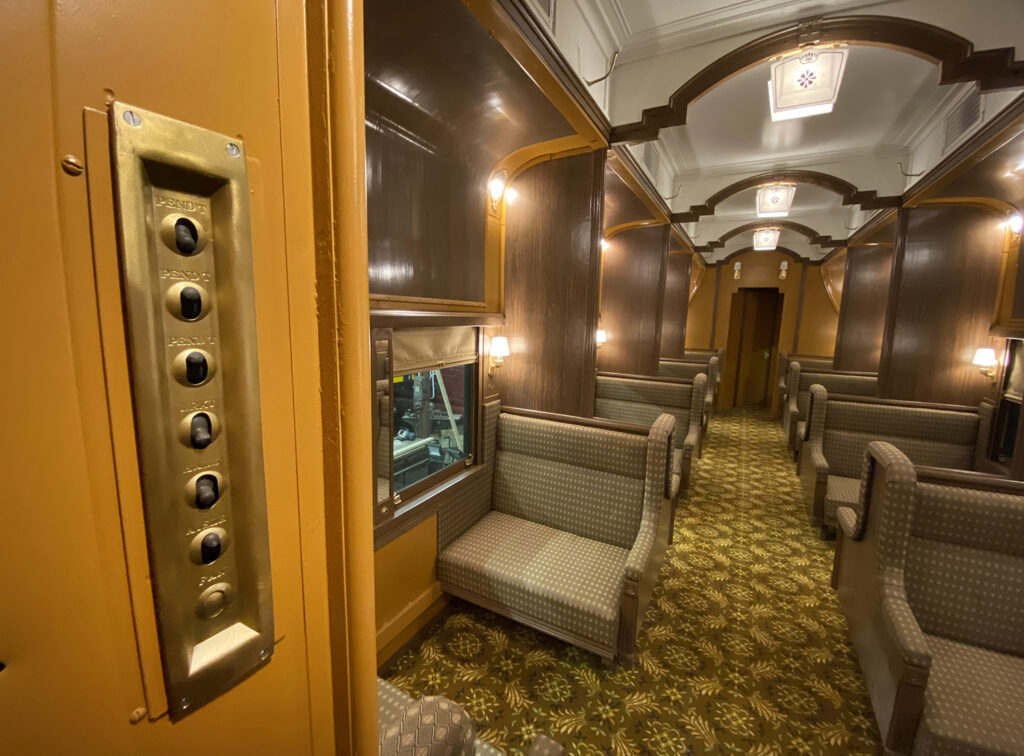 After more than 2½ years of meticulous work, the National Railroad Museum completed its restoration of the Joseph Lister hospital car in spring 2022.
The Lister, built in 1930 by the famed Pullman Co., transported patients from Chicago to the Mayo Clinic in Rochester, Minnesota, for more than 30 years as part of the Chicago and North Western Railroad (CNW).
Generous financial support for the project was provided by the David L. and Rita E. Nelson Family Fund, as well as donations from Dr. Paul Koch and his wife, Linda, and other smaller donations. Dr. Koch also donated historic medical equipment.
Thousands of hours have been devoted to resurrecting the Lister since it was moved inside the Museum's shop in July 2019. Restoration team members included Museum employees Jeff Truckey and Andrew Duescher, retired Museum employee Hank Van Stedum, and volunteers Peter Angeli, Paul Koch, Mike Pavick, Jerry Vander Heyden, Larry LePage and Jay Froming.
The hospital car has been part of the National Railroad Museum's rolling stock since 1988; CNW named it the Joseph Lister in honor of the famed English surgeon who is best known as the founder of antiseptic medicine and a pioneer in preventive medicine.
The Lister was one of two identical hospital cars manufactured for CNW. The other was dubbed Ephraim McDowell for the former American physician and pioneer surgeon; that car eventually was dismantled and used for parts.
CNW literature describes the Lister as a customized, composite Pullman sleeping car that could hold six patients and medical personnel. To afford patients a greater level of comfort, the Lister featured three double doors along one side that each opened to 30 inches wide, enough to accommodate a stretcher. Two of the doors provided direct entrance into extra wide rooms. The third set accessed eight open sections located at one end of the car. By using the double doors, patients avoided the numerous turns associated with the usual vestibule entrance. To further aid mobility within the car, corridors were widened to facilitate stretchers and to aid patients moving about with an escort.
The Lister was intended to provide sleeping quarters for overnight occupancy. As such, the car was equipped with several special engineering features to reduce noise and vibration. In addition to roller bearings on the axles, a smoother ride was ensured by rubber "shock absorbers" placed between the car body and its trucks. The diaphragms at each end of the car were spring-hung, eliminating much of the noise associated with the between car walkways.
Photo Gallery | Joseph Lister Hospital Car
Contact Us
Daniel Liedtke, Curator: (920) 437-7623 or nrrmcollections@nationalrrmuseum.org