Pennsylvania Railroad #4890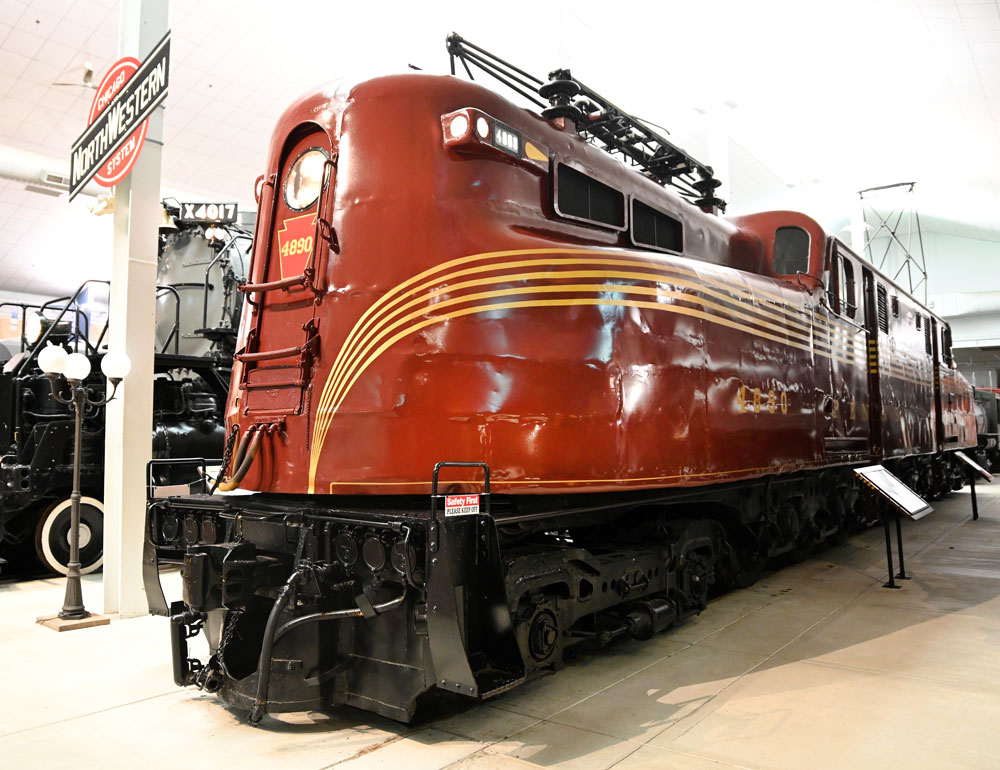 The GG-1, America's most famous electric locomotive, was first built in 1932. Its streamlined body has been featured on U.S. postage stamps, as a Lionel toy train, and in dozens of paintings over the years.
Designed to move passengers, and eventually freight, along Pennsylvania's electrified lines between Washington D.C., New York, and Harrisburg, Penn., the locomotives' streamlining is what brought it fame.
The Pennsylvania Railroad began electrifying its East coast lines in 1905 and by the early 1930s, required a new, larger electric motor for anticipated high-speed passenger service. The GG-1 design was decided on after testing a similar unit from the New York, New Haven and Hartford Railroad. Early in 1934, the first GG-1 #4899 (renumbered to #4800) was readied for testing. It proved to be very successful and 57 more were ordered immediately. The GG-1 design worked so well that the Pennsylvania Railroad eventually rostered a total of 139 between 1934 and 1943. Locomotive #4890 (the one now housed in the Museum's Lenfestey Center) was part of an order for 20 units constructed in 1940. It's among only a handful that still exist.
The GG-1s were powerful locomotives capable of providing a continuous 4,602 h.p., with a short-time peak rating of 9,300 h.p. To supply this power, a GG-1 drew alternating current through its pantograph from overhead wires. These wires carried 11,000 volts of electricity. They were rated for service at speeds over 100 m.p.h. Routinely, GG-1s pulled trains of 18 to 25 heavyweight cars (Pullman heavyweight cars weighed between 130,000 and 180,000 lbs. each.)
The body was styled by industrial designer Raymond Loewy, the man who designed products and graphics for IBM, Coca-Cola, Shell Oil, and hundreds of other brands. There were 139 GG-1 locomotives built.
Photo Gallery | Pennsylvania Railroad #4890
Contact Us
Daniel Liedtke, Curator: (920) 437-7623 or nrrmcollections@nationalrrmuseum.org