Children's Birthday Parties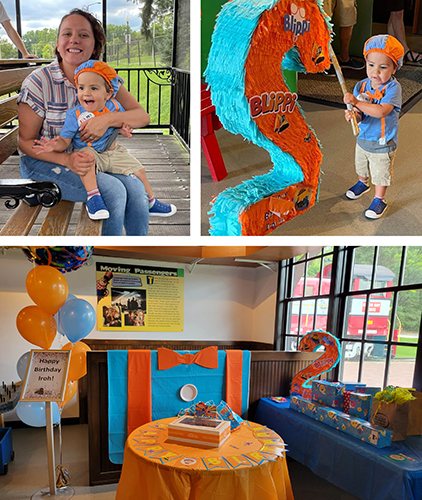 Are you looking for a children's birthday party venue? Look no further than the National Railroad Museum in Green Bay! With two onsite options, children and their friends and family members are sure to enjoy celebrating at the Museum. Celebrate next to a vintage Ahnapee & Western caboose in the Lenfestey Center's Caboose Party Area, or for a private space rent our Children's Discovery Depot.
Included with party packages
Use of the party space for 3 hours, with an additional 1 hour of setup time
30-minute, child-friendly movie in our Theater (movie choices: Big Boy, Thomas the Train, Pixie Hollow Games)
25-minute train ride (available daily May-September and weekends in October)
Museum admission for 10 guests, which includes access to all exhibits (5 additional guests are included for free when the event is scheduled for November through April)
Personalized quarter-sheet cake with chosen image and wording, picked up by a Museum staff member
Table covers, centerpieces, train tables and coloring activities
Personal "Happy Birthday" sign
Pin the Engineer on the Engine game
Complimentary invitations
Photo props
Staff member to provide assistance, notification of food delivery, and escort of guests to activities, such as movie and/or train ride
Outdoor directional signage (when necessary)
Setup and takedown of chairs, tables, and provided activities
Base package costs
Children's Depot: $275 ($250 member) for 15-20 people
Caboose: $250 ($225 member) for 15-20 people
Costs for groups bigger than base packages
20-25 people: Children's Depot, $300; Caboose, $275
25-30 people: Children's Depot, $325; Caboose, $300
30-35 people: Caboose, $325
35-40 people: Caboose, $350
40-45 people: Caboose, $375
Note: The Children's Discovery Depot has a capacity of 30 people
Add-on options
Temporary tattoos: $30 (30 minutes of tattoo application by Museum staff member)
Bean bag toss: $20 (rental for 3-hour event)
Inflatable bowling: $25 (rental for 3-hour event)
Basketball toss/hoop: $30 (rental for 3-hour event)
Goody bag options
Option A: Engineer hat, train whistle and train lollipop ($8 per bag)
Option B: Assorted candies, plus all of Option A ($10 per bag)
Option C: Bubble blower or small toy, plus all of Option B ($12 per bag)
Ask us about party themes! If you have a theme in mind for your child's birthday party celebration, let us know and we can help bring your dream party to life!
Contact Us
Violet O'Donnell, Events Assistant: (920) 437-7623 or nrrmevents@nationalrrmuseum.org