Group Tours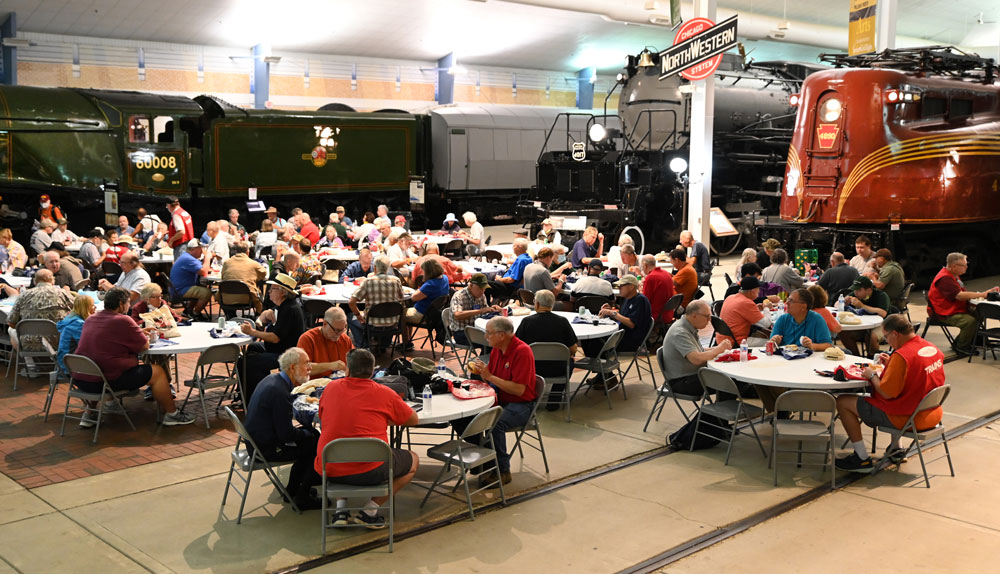 Visitors to the National Railroad Museum are invited to explore our historic trains, engaging exhibits and beautiful property on self-guided tours or group tours.
Your guide will discuss highlights of the Museum's collection, including the General Motors Aerotrain, General Dwight D. Eisenhower's World War II command train, Union Pacific #4017 "Big Boy," the Pennsylvania Railroad GG-1 electric locomotive, the Pullman porters and Lake Mitchell car, and the Wisconsin 40&8 boxcar, to name a few.
Groups may wish to allot additional time to view exhibits and other spaces not included in the main tour, or they may wish to visit the Museum store.
Tours are offered throughout the year and are registered on a first-come, first-served basis. Tours are not offered during Museum special events. Reservations must be made at least 2 weeks in advance.
Dine like a real rail rider! The Museum can provide your group with a hobo (box) lunch as part of your visit. Please ask for menu and pricing information when you make your tour reservation. Hobo lunches are priced in addition to the tour cost.
Other than Hobo (box) Lunches, which are scheduled in advance, food is not available for purchase on the Museum grounds. However, groups are allowed to carry-in food and non-alcoholic beverages. The Museum has a picnic area for groups wishing to dine outside.
For adult groups, a tour escort and any licensed, professional bus drivers are admitted free.
For youth / school groups, one chaperone is required for every 10 students. Required chaperones and licensed professional bus drivers are admitted free. We will round up the number of free chaperones (for example, 21 students = 3 chaperones).
If your group visits between May and September, or on the weekends in October, your group will be able to take a train ride. The Museum's train runs during this period and we will accommodate your group with one of our regular departures or a special trip, if necessary. Please see the Train Rides page on our website for additional information.
The Museum's parking facilities can accommodate everything from extended vans to full-size touring coaches.
A limited number of wheelchairs are available for use during your visit and are arranged through the Museum store.
We ask that you deposit a valid driver's license with store personnel to secure the use of a wheelchair during your visit.
Visitors are welcome to take pictures at the Museum for personal, private or non-commercial use. If you wish to take photos for any other purpose, prior written permission must be arranged through the Museum's events department by contacting Liz Van Pay, events coordinator, at (920) 437-7623, ext. 119, or lvanpay@nationalrrmuseum.org. Please note: tripods or monopods are not permitted on Museum grounds without prior consent.
$10 per person for groups of at least 10 people ages 12 and older.
All tours require a non-refundable $75 deposit to be received by the Museum no later than one week before the tour date.
The balance of a remaining tour fee is due upon arrival at the Museum. We accept cash, checks or credit cards.