Storytime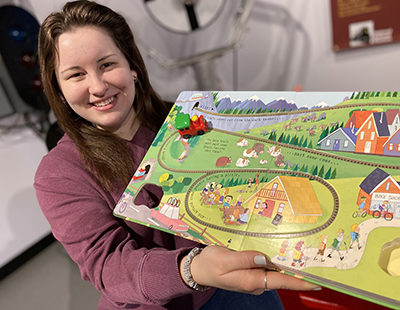 Storytime is a fantastic opportunity to join us in the warmth of our Jodey Lenfestey Children's Discovery Depot and enjoy having staff members read train-related children's books. Afterward, participants will engage in fun coloring and crafting activities.
Storytime is scheduled for these days and times in 2023:
Tuesday, February 14: 10-11 a.m.
Wednesday, February 15: 1-2 p.m.
Tuesday, February 21: 1-2 p.m.
Wednesday, February 22: 1-2 p.m.
Tuesday, February 28: 10-11 a.m.
Wednesday, March 1: 1-2 p.m.
Tuesday, March 7: 10-11 a.m.
Wednesday, March 8: 1-2 p.m.
Storytime admission is $10 for 2 children and 1 adult ($5 for each additional adult/child). Members are admitted free.
Advance registration is not required. All attendees, even those with memberships, should go to the Museum's main entrance ticket desk before entering the depot. Please note that Storytime tickets are only for the one-hour Storytime time slot. Guests who wish to explore the Museum before or after Storytime may do so by purchasing regular daily admission tickets. Guests are invited to use the $10 Storytime cost as a downpayment on a family membership. For membership details, please click here.
Contact Us
Justin Lambrecht, Education Director: (920) 437-7623 or nrrmeducation@nationalrrmuseum.org