Pullman Porters: From Service to Civil Rights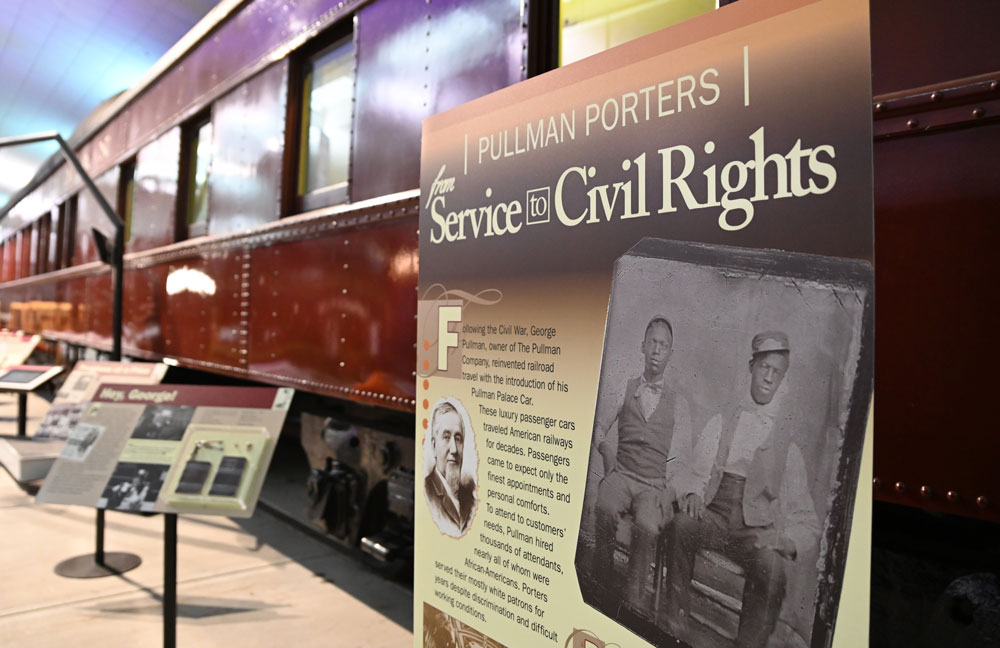 The National Railroad Museum's Pullman Porters: From Service to Civil Rights exhibit is at the nexus of several historical narratives: railroads in United States history and the labor and civil rights movements of the 20th century.
Using the latest digital technology as well as the most current methods of museum exhibition, Museum staff members have developed a compelling exhibit that tells the story of a group of men who worked America's rail lines for nearly 100 years.
The immersive exhibit, displayed in the Museum's Lenfestey Center, features a restored 1920s Pullman sleeper car, the Lake Mitchell. The exhibit is supported by interpretive elements in and around the car.
Exhibit elements include a computer-generated porter with interactive capabilities inside the car, original artifacts, and a touch screen computer kiosk. The kiosk offers curriculum-relevant materials such as oral histories and period music that illustrate the cultural, political, and racial climate at the time.
Starting in 1909, Pullman porters tried unsuccessfully to organize a labor union. Their break finally came in 1925 when A. Philip Randolph helped form the Brotherhood of Sleeping Car Porters (BSCP). Randolph and the BSCP were met with strong opposition from the Pullman Company but ultimately succeeded in forming the first all-black labor union in 1937. Soon after winning the labor battle, Randolph and the porters shifted their attention to the struggle for civil rights and remained at the forefront throughout the 1960s.
The story of the Pullman porters is truly American, and it reminds us of the towering efforts of ordinary people who helped shape our nation's history.
---
Photo Gallery | Pullman Porters: From Service to Civil Rights
Contact Us
Daniel Liedtke, Curator: (920) 437-7623 or nrrmcollections@nationalrrmuseum.org