Union Pacific #4017 "Big Boy"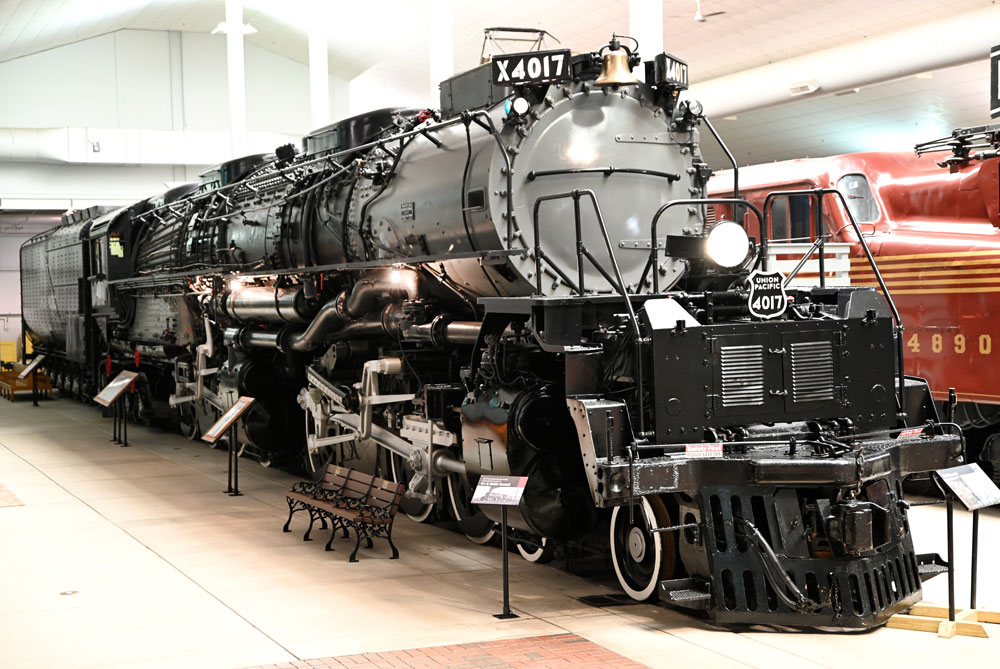 Weighing in at 1.1 million pounds and measuring nearly half a football field in length, the "Big Boy" locomotives were designed to haul heavy freight for the Union Pacific railroad over the mountainous regions of Utah and Wyoming.
Originally, 25 of these giants were constructed from 1941 to 1944, and they roamed the rails until 1959. Union Pacific donated eight "Big Boy" locomotives to museums across the United States. "Big Boy" #4017 is preserved inside the National Railroad Museum's Lenfestey Center, making it the only one housed inside a climate-controlled facility.
Providing fuel and water to feed "Big Boy" was a major task. The 14-wheel tender was one of the largest built, with a capacity for 32 tons of coal and 24,000 gallons of water. When it was built, Big Boy's tender was designed to carry 28 tons of coal. This was enough to fuel the locomotive while pulling a 3,600-ton train between Ogden and Echo, Utah – a distance of 55 mountainous miles. Union Pacific soon added steel coal boards around the top of the coal bunker to prevent spillage and increase capacity. With the boards, the tender could carry 32 tons of coal. The tenders on the first Big Boys (#4000 to #4019) carried 24,000 gallons of water. On the second order (#4020 to #4024), water capacity was increased to 25,000 gallons.
In addition to fuel and water, the tender carried other equipment. The stoker motor and firefighting equipment were located in lockers on the fireman's (left) side. Lockers on the engineer's (right) side held train signal controls and small tools.
The coaling tower was a busy place during the steam era. On the Union Pacific railroad, some coaling towers — like the one in Cheyenne — held up to a 650-ton supply and spanned four tracks. They also supplied sand to prevent locomotives from slipping on wet rails and when locomotives were getting started. When a locomotive arrived at a coaling tower, its fire would be cleaned and the ash pan emptied. The ashes and cinders fell into pits located between the rails. A conveyor system then loaded the waste into hopper cars. The cinders were dumped along the tracks as ballast.
Photo Gallery | Union Pacific #4017 "Big Boy"
Contact Us
Daniel Liedtke, Curator: (920) 437-7623 or nrrmcollections@nationalrrmuseum.org