About the Museum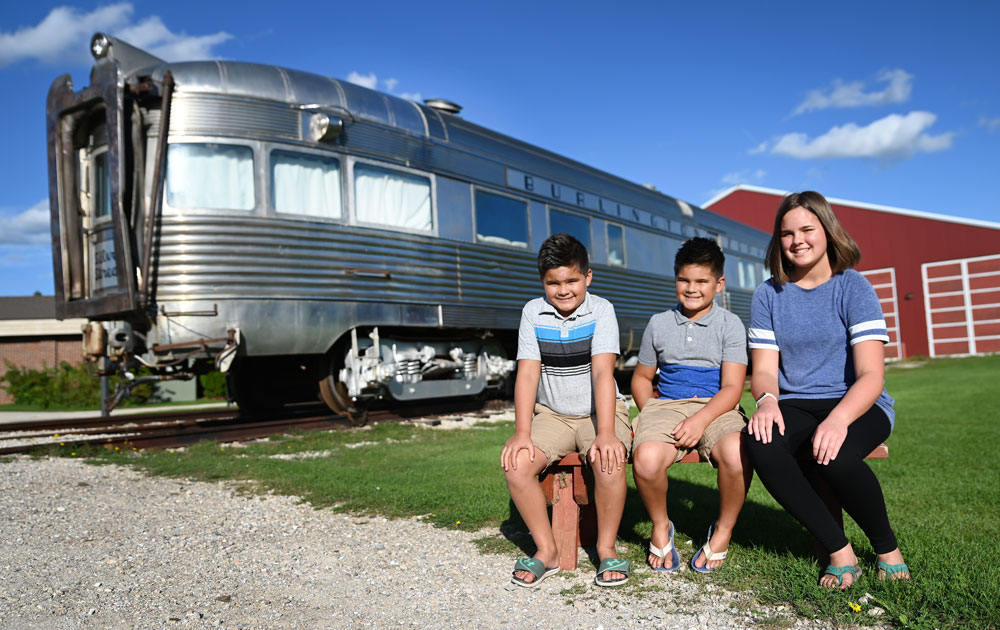 Our Mission
The National Railroad Museum inspires lifelong learning by providing dynamic educational opportunities through the preservation of railroad objects, engaging exhibits, and innovative programs.
Our History
Established in 1956 by several local businessmen, the National Railroad Museum began as a Steam Locomotive Committee aimed at preserving a favorite steam locomotive and other rolling stock. Gen. Carl R. Gray, commander of military railroads
during World War II, simultaneously advocated for the creation of a national railroad museum.
Through a designation by Congress, catalyzed by the work of U.S. Rep. John Byrnes and Sen. Alexander Wiley, the National Railroad Museum became the only congressionally designated railroad museum in the United States. The Museum operates as a privately funded 501(c)(3) educational organization and is among the largest railroad museums in the nation.
Located on Cooke Memorial Park, and later adding a portion of land owned by Brown County, the National Railroad Museum's 33 acres is the site of an increasing collection of rolling stock. Some pieces are housed in our beautiful, enclosed Frederick J. Lenfestey Center, while others are on display outside and under the roof of the Victor McCormick Train Pavilion.
As old freight equipment was replaced and passenger travel declined, the Museum acquired unique locomotives such as Union Pacific #4017 "Big Boy," the Pershing and the Dwight D. Eisenhower, and more pieces representative of U.S. railroad history.
The Museum now features more than 60 pieces of rolling stock, more than 100,000 small artifacts, operating / display tracks, seasonal train rides and special events.
The Museum's 20 staff members and 200+ volunteers warmly welcome and help educate more than 100,000 visitors annually from across the country and around the world.
Despite its status as the only Congressionally designated national-status railroad museum in the United States, the National Railroad Museum receives no federal, state or local tax support. Funds supporting Museum operations come from admissions, grants, memberships, fundraising events, mission-related business activities, and the generosity of private donors.
Affiliations
The National Railroad Museum is proudly affiliated with several organizations, including:
Blue Star Museums: This organization is a collaboration among the National Endowment for the Arts, Blue Star Families, the Department of Defense, and museums across America offering free admission to the nation's active-duty military personnel and their families, including National Guard and Reserve, from Armed Forces Day through Labor Day. For more about Blue Star Museums, please click here.
Brown County Federation of History Organizations: This independent, not-for-profit organization is dedicated to the support of regional history organizations and their missions through collaborative projects that provide excellent professional education, integrated community awareness, mindful collections preservation, and dynamic community events. For more about the Brown County Federation of History Organizations, please click here for its Facebook page.
Association of Science and Technology Centers: As part of the ASTC's Travel Passport Program, National Railroad Museum members receive free or discounted admission at more than 300 select museums in the United States and around the world. Visit astc.org/passport for more information and local restrictions. For more about the ASTC's Travel Passport Program, please click here.
Museum Board of Directors
David Ward, President
Chuck Timmerman, Vice-President
Justin Kudick, Treasurer
John Bellin, Secretary
Jacqueline Frank, Director and Museum CEO
Ryan Krumrie, Director
Andy Laurent, Director
Jerome Lopas, Director
Charles Pope, Director
Heidi Sherman, Director