Traveling Display: Buddy 'L' train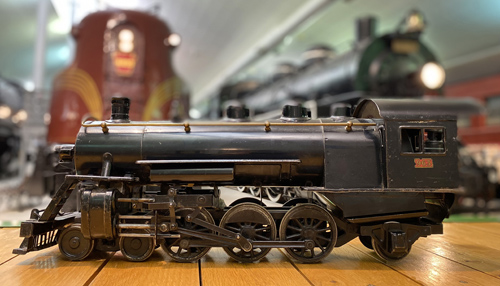 A 1927 Buddy "L" "Outdoor Railroad" train set and the story of its original owner, 2nd Lt. George E. Fenn – who remains "missing in action" from World War II – will be the National Railroad Museum's featured display at three Wisconsin train shows in 2023.
Visitors are invited to see the 96-year-old train set – which has been played with by four generations since George's passing – at the Mad City Model Railroad Show & Sale in Madison on Feb. 18-19; the Titletown Train Show in Green Bay on April 1-2; and Trainfest in Milwaukee in November (dates TBA).
George received the beautiful Buddy "L" train as a Christmas gift in 1927 at the age of 7. Born and raised in Oshkosh, Wis., young George wrote a letter to Santa that year:
Dear Santa Claus.
How are your Eskimos.
And your raindeers.
And you.
I forgot to tell you not to bring me any thing if you bring me the Buddy "L" train.
From George Fenn
The letter – a copy of which is included in the Museum's display – was saved over the decades and is now kept with George's niece, Joan Ziegler, who lives in Wisconsin. She also carefully maintains his Purple Heart and letters home from the war. George has two other nieces, Ann Reinke Strong of Massachusetts, and Mary Reinke of New York, both of whom also care for some of George's items. All three women are daughters of Lucille (Fenn) and Leonard Reinke, George's older sister and brother-in-law. George also had a younger sister, Marjorie.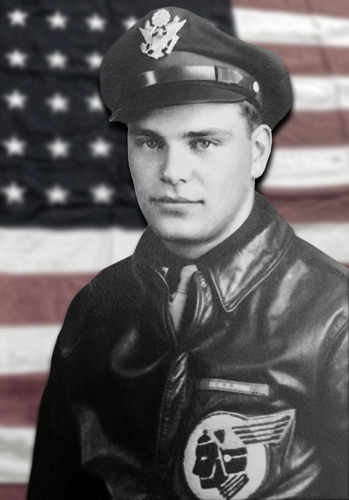 By all accounts, young George adored his Buddy "L" train, playing with it outside at every opportunity. Even Wisconsin winters couldn't stop him from getting his Buddy "L" on the rails; pictures from that time show the train traveling through tunnels he carved in snowbanks.
George's parents, Frank and Mary, bought their only son several other Buddy "L" toys, including an ice truck and steam shovel. But George's biggest passions were trains and planes. His family has faithfully preserved wonderfully detailed drawings created by George illustrating his love for railroads and runways. Family members shared stories of how, as a young boy, George and a friend would ride their bicycles to the Chicago and North Western Railroad Depot in Oshkosh to greet the Soo Line and C&NW trains. They knew the railroad workers and spent hours hanging out.
George's bedroom was stuffed with "The Hardy Boys" mysteries and adventure books, stacks of train and plane magazines, timetables, posters, models and drawings.
George graduated from Oshkosh High School with high honors, was a member of the National Merit Society and debating club, and served as president of his DeMolay Chapter. He worked at Oshkosh Pure Ice Company during the summers to support his hobbies. While in high school, George took flying lessons with renowned airman Steve Wittman, for whom Wittman Regional Airport in Oshkosh is named.
George attended the University of Wisconsin-Oshkosh, as it is now known, for a year and then went to the University of Wisconsin-Madison, where he was a member of the JV crew team. When he was 21 years old, George and his brother-in-law, Leonard, were mentioned in an Oshkosh Daily Northwestern article detailing how they were the first people on the scene to help rescue a man and his 17-year-old daughter when their boat capsized on Lake Winnebago in eastern Wisconsin.
In the wake of the United States' entry into World War II in December 1941, George enlisted in the U.S. Army Air Corps in April 1942. He qualified to be a fighter pilot and served with the 36th Fighter Squadron, 8th Fighter Group, in the Pacific Theater.
On Oct. 28, 1943, George took to the skies over New Guinea aboard his P-39 on an armed patrol. The 23-year-old second lieutenant was never heard from again.
Two weeks later, on Nov. 11, 1943, an Oshkosh Daily Northwestern article stated that George "has been reported 'missing in action,' according to a government telegram received by the family this morning." The story said the last letter George's family received from him was dated Oct. 22, one day before he went missing.
Within the past six years, the Past Conflict Repatriations Branch of the U.S. Army located the crash sites of the two other pilots who were lost with George that fateful day and successfully returned their remains to family members. George is still listed as "missing in action," but his family is hopeful that recovery teams can return to the region and find their loved one.
According to the United States Defense POW / MIA Accounting Agency, George is among more than 81,500 Americans who remain missing from World War II, the Korean War, the Vietnam War, the Cold War and the Gulf War / other conflicts.
After George was lost, his entire family was devastated. His mother did not leave her house for three months and for the rest of her long life could not bear to speak about her son. The rest of the family, respectful of her wishes, was reluctant to talk about George. For the next four decades, the family kept George's bedroom undisturbed.
The Buddy "L" train was put away, too much a reminder of George. Several years later, his sister and brother-in-law, Lucille and Leonard Reinke, brought the train to their new house where their three daughters played with it. Leonard eventually took charge of the train and built a display shelf high on a wall, determined to keep it safe from accidental damage. When grandchildren came along in the 1970s, the train came down for playing inside in the basement or on the porch, but not on the grass. Years later, great-grandchildren also had a chance to make memories with George's Buddy "L" train.
When Lucille passed away in 2020 at the age of 102, the family generously donated the train, in George's honor, to the National Railroad Museum – which, in turn, is now proudly sharing it as a tribute to George and his sacrifice for our country.
"I am thrilled my Uncle George's Buddy 'L' is in good hands and will have educational value for the National Railroad Museum," said his niece, Mary Reinke.
Photo Gallery | 2nd Lt. George E. Fenn and his Buddy "L" train
Contact Us
Daniel Liedtke, Curator: (920) 437-7623 or nrrmcollections@nationalrrmuseum.org