Online Gallery: USA Cup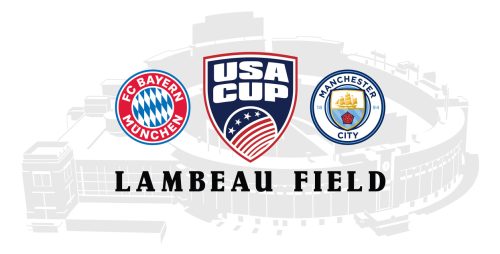 In conjunction with the exhibition match between European soccer powers FC Bayern Munich (Germany) and Manchester City (England) on July 23, 2022, at Lambeau Field in Green Bay, the National Railroad Museum is presenting a temporary online photo gallery featuring a few items in the Museum's collection with connections to the teams' host countries. The photos will remain online through summer 2022.
The Museum's collection features more than 100,000 items, ranging in size from pins to full-size train cars. Most of the items are from the United States, but some have ties to other countries, including the items featured below.
Billed as the USA Cup, it was the first soccer match to be played at historic Lambeau Field, home of the Green Bay Packers. Lambeau Field is less than 2 miles northwest of the National Railroad Museum, 2285 S. Broadway, Green Bay. The match was part of FC Bayern Munich's preseason Audi Summer Tour.
Photo Gallery
Contact Us
Daniel Liedtke, Curator, (920) 437-7623, ext. 114 or dliedtke@nationalrrmuseum.org